Looking for details on when your order should ship or its whereabouts? The answer may be found here or a product's description.
When will my order ship?
Order fulfillment lead times should be mentioned within our products descriptions to give a relative timeframe of when your order should be shipping your way. The current average lead time is 1-2 weeks from the date the order was placed. If you don't see any updates within this timeframe, please reconfirm the products lead time before contacting our support team.
If you didn't receive any emails from us, such as a confirmation email, please check your spam inbox or make sure you haven't opted out of receiving emails from us: (Near bottom of website)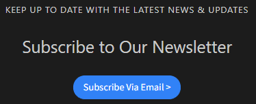 If your order status appears "Awaiting Fulfillment" all is good! This means our order fulfillment team is working on putting your order together for you and it should be sent out within the advertised lead time.
Is my package lost in shipping?
If the tracking number for your package indicates it's been lost in transit or the tracking hasn't been updated for 15 days for domestic shipments, or 20 days for international shipments, please reach out to our customer support team.
International Shipping
International shipping can take anywhere from 2 weeks to 2.5 months. We strongly recommend selecting UPS as your shipping carrier at checkout for all international shipments.
Customs may charge additional fees in order to import your order depending on your country. These fees will be your responsibility.
Can I change my shipping address?
If your order hasn't shipped, a customer support representative will be happy to help update the shipping address on an order for you.
Where can we ship to?
Most of our products are able to ship anywhere internationally! If there are no shipping restrictions mentioned within the product description, the item should be able to reach countries outside the U.S. with just a little longer transportation time.
Please advise, WPS is not responsible if customs of foreign countries are to seize particular shipments. Although, thankfully, this is rarely ever an issue.
Vertx products cannot be shipped outside of the United States.
Knives cannot be shipped internationally.
---
Common Customer Service Tickets:
"My order status reads Awaiting Fulfillment and it's been 2 days from order date."
Average lead time of order fulfillment is 1-2 weeks, please stand by for the last 5-12 days for a shipping update.
"I received an email about validating my address on an order recently placed."
Roger that! Let us know if your address mentioned on the order is 100% correct or what needs to be fixed and we'll send it your way as soon as possible.
---
If your question is not answered above or within a product description, feel free to reach out to our customer support team and they'd be happy to assist you! Average response time is 48 hours. Office hours are Monday - Friday from 9:00AM - 5:00PM (EDT).