Introducing Warrior Poet Society's tactical training staff.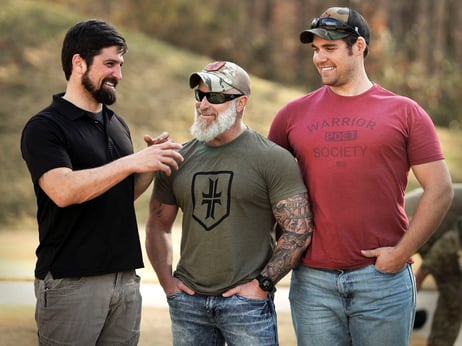 John Lovell - Instructor of the Year (Gundies 2022)
John is a war veteran and a former member of Special Operations, having served in the 2nd Ranger Battalion with numerous combat tours to both Iraq and Afghanistan. His overseas experience also includes having served as a Christian missionary to Central America. John is a 'family-man', and fills his time with faith, family, fun, and study.
Paul Perkerson - Leading Instructor
The Battle Gnome himself.. Paul is our most active Pistol and Rifle instructor developed from WPS training tactics, U.S. Army long range surveillance, and Black Water USA security contracting. Paul never fails to impress his students from all around the map and shall continue to impact the tactical industry as much as possible whilst spending quality time with his awesome colleagues in the WPS office.
Josh Griffiths - Special Operations& Defense Expert
15 year Army veteran Joshua Griffiths has an extensive special operations background serving in 75th Ranger Regiment 2nd Ranger Battalion, 10 Special Forces Group CRF (Crisis Response Force). Serving as an instructor for both 10th SFG and currently 20th SFG SFAUCC (Special Forces Advanced Urban Combat Course); Joshua is extremely experienced with 8 combat deployments serving Iraq, Afghanistan, Niger, and Saudi Arabia (serving on former President Donald Trump's Presidential Protection detail), in addition to 4 contracting trips overseas outside of his military career serving on executive protection details in Middle Eastern countries for the US Government.
Joshua is a man of faith with strong family and Christian values. He enjoys spending time with his family, jeeping, and being outdoors. He is passionate about teaching and bringing the knowledge he's gained from the military to assist others in training for the safety of themselves and their families.
---